//Blogs - 12 Jan 2021
AusCERT: What to Expect in 2021
Membership matters – optimising and elevating our services

As we bid goodbye to our members at the end of last year, we delivered a sneak preview of what the team hopes to achieve in the new year. While there are doubtless many unknowns awaiting us in 2021, here are some key issues on the AusCERT agenda: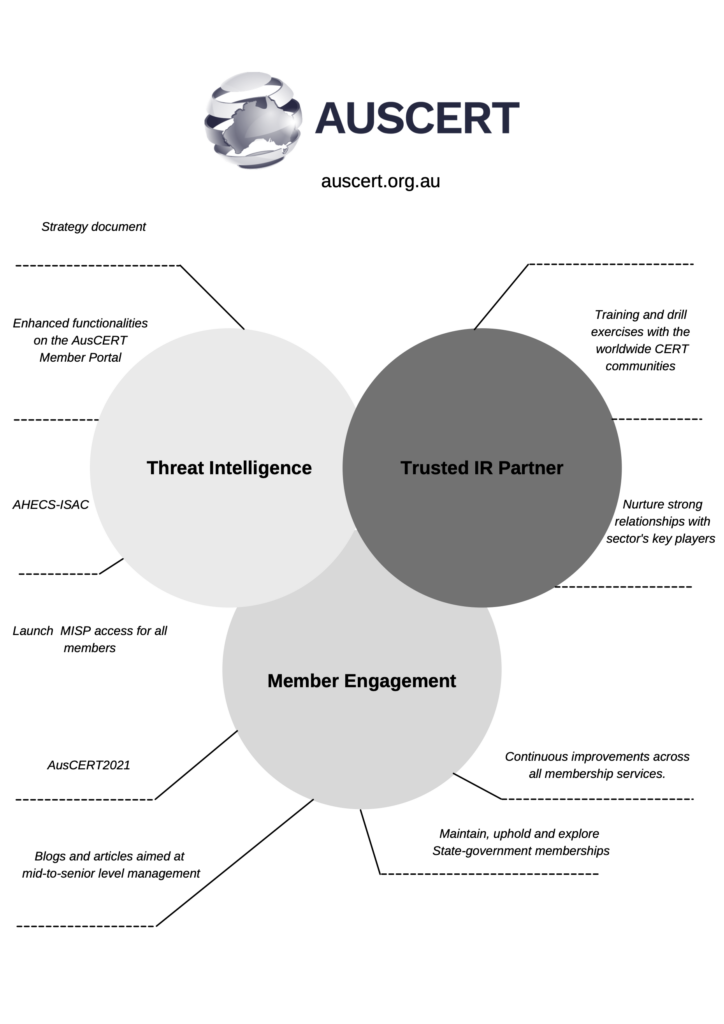 IMAGE: AusCERT Strategic Plans 2021
Expand and enhance our delivery of threat intelligence
As a team, we aim to form and publish a Cyber Threat Intelligence (CTI) strategy document to help us align with our members' needs – and in tandem with developing this CTI strategy – our goal is to also publish IoCs to members in STIX format.

To complement this initiative, our team is looking to introduce some enhanced functionalities on the

AusCERT Member Portal

; such as an Incident Portal with file upload facility which includes analysis and feedback. 
The team is aiming to rebrand, reinvigorate and relaunch the

CAUDIT-ISAC

initiative as "The

AHECS-ISAC

, powered by AusCERT".

And last but not least, in tandem with the CTI strategy and CAUDIT-ISAC relaunch, the team aims to launch

MISP

access for all members.
Remain a trusted incident response partner, both locally and globally
As a team, we aim to broaden our incident response capability with consistent training and drills – especially through our strong relationship with the APCERT community as witnessed in

2020

,

2019

and in previous years; as well as maintain our standing within the worldwide CERT community through

FIRST

.

Continue to foster a strong relationship with the local Australian cyber security sector "key players"; especially the ASD via

Australian Cyber Security Centre

,

AustCyber

and

IDCare

et. al.
Consistent and useful engagement with our members
As a team, we will be celebrating the 20th anniversary of our annual cyber security conference; Australia's oldest and premier cyber security conference. The

AusCERT2021 conference

theme will be "SOARing with cyber" and this annual event provides our members with the optimum opportunity for professional development and upskilling. 
AusCERT will continue to maintain, uphold and explore State-government memberships.

The team will aim to increase the number of blog articles and publications targeting senior to mid-level members.

And last but not least, the AusCERT team will focus on continuous improvements across all membership services. 

The cyber security landscape is ever-changing, and AusCERT continues to be passionate about engaging our members to empower your people, capabilities and capacities.